Car Stereo Digital Sound Processors & Factory Integration We Offer
Check out the different options available in DSP's (digital sound processors) that we are authorized dealers for. Our techs and installers are highly trained in setting up and installing these DSP's that allow us to integrate aftermarket car stereo equipment with your factory headunits and radios. Factory (OEM) head-units have evolved into fully integrated entertainment hubs, typically interconnected with supplementary vehicle controls, safety system displays and other critical vehicle functions. A DSP allows you to keep all the functionality of your OEM system, while also the ability to upgrade everything else like your speakers, adding amplifiers, and installing subwoofers. Contact the best car stereo shop in Melbourne to install one of these factory integration DSP's in your car and start enjoying amazing sound and music.
JL AUDIO FiX OEM INTEGRATION
Equipped with a powerful 24-bit DSP, with proprietary programming and correction algorithms, a FiX™ DSP combines the functions of a powerful audio analyzer, line output converter, digital delay, signal-summing preamplifier and multiple 30-band equalizers. These functional blocks are programmed to measure multiple factory audio signals, level match them, correct any delay, sum them, and then equalize them for flat response. All of this happens automatically, with the press of a button. The results are clean, flat audio signals you can build your dream system around.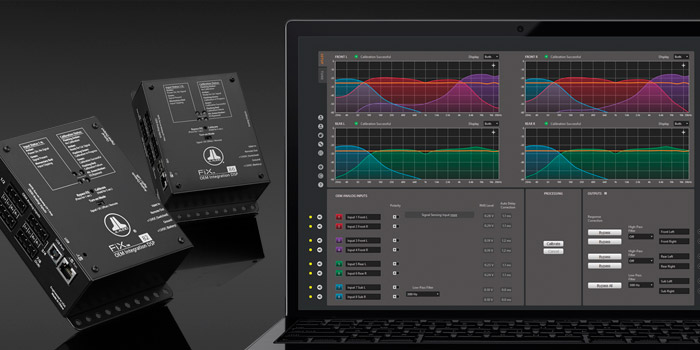 JL AUDIO TwK DSP SYSTEM
Unleash the power of DSP to tune your system like never before! Armed with a 24-bit digital signal processor, our TwK™ System Tuning DSPs deliver exceptional system tuning functionality, precision and flexibility. Both TwK™ models feature eight channels of crystal-clear, analog audio outputs. An unprocessed, optical (Toslink) digital output is also included, so you can expand a system with additional TwK™ DSPs, if needed. The included DRC-200 Digital Remote Controller adds additional control and status reporting capabilities from the driver's seat.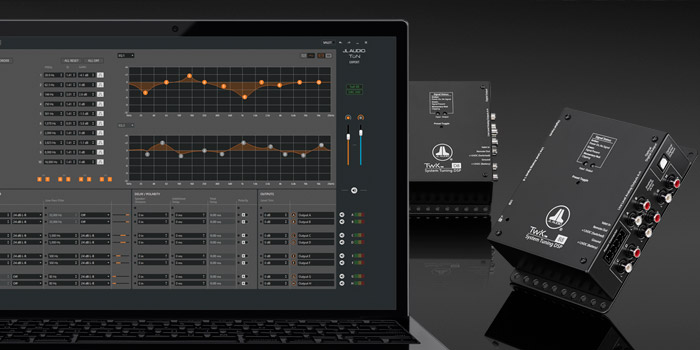 AUDISON BIT DSP PRODUCTS
Audision Bit Processors capable of processing audio signals with 24-bit/96 kHz resolution. In the world's most important recording and mastering studios, audio signal is digitally processed at a standard 24-bit/96 kHz resolution, to preserve every single nuance even after multiple processing (dynamic range compression, equalization, ambient sound effects etc.). Thanks to its "Istinto Innovativo", Audison achieved the same audio quality as professional digital workstations for the car compartment. The Bit processors make the most of Hi-Res files providing the ability to develop a Full DA HD chain.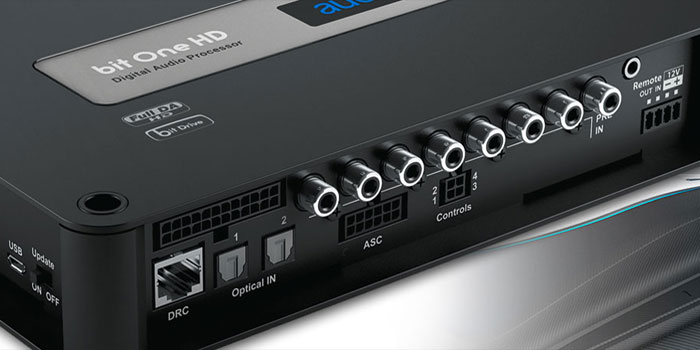 AUDIOCONTROL FACTORY SYSTEM UPGRADE
Every make, model, and year of car is different, so installation of an upgraded sound system can be tricky. Most factory radios today are so much more than the radio. They are the command center for the infotainment system of the vehicle and changing them gets very expensive (if even possible) and you do not get much of a sound improvement. The problem is that its sound quality might not be up to your standards. AudioControl Factory System Upgrades make your Good factory system Sound Great!