JL Audio W3 Subwoofers Available For Sales & Installation
Browse JL Audio W3 subwoofers we have available for sale and for installations here in Melbourne at the best car stereo shop in Melbourne. Authorized JL Audio dealer for sales & installation of all JL Audio equipment.
Phenomenal performance at medium power levels, without requiring a large enclosure.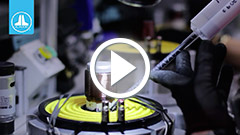 This newest generation of W3's benefits from a whole suite of advanced technologies originally developed for our flagship W7's. The DMA-optimized, long linear excursion capability minimizes distortion and increases output, while multiple patented technologies enhance performance and reliability. These advances make the v3's the best sounding, most reliable W3's yet.
A mineral-filled polypropylene upper cone body with a metallic JL Audio logo medallion provide a simple, classy look. A removable (and customizable) mounting flange trim ring receives grille-mesh inserts directly, without the need for additional grille hardware (Grille mesh inserts are sold separately).
W3v3's are built to exacting quality standards in our Miramar, Florida factory with global components and are offered in five sizes, ranging from 6.5-inch to 13.5-inch nominal diameters.