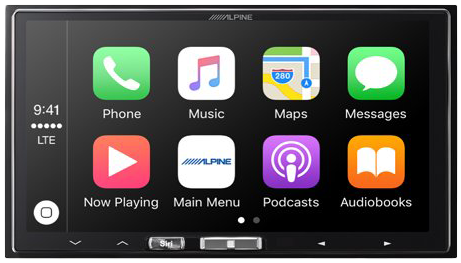 Alpine iLX-107 7-inch Mech-less In-Dash Receiver with Wireless Apple CarPlay
June 3, 2018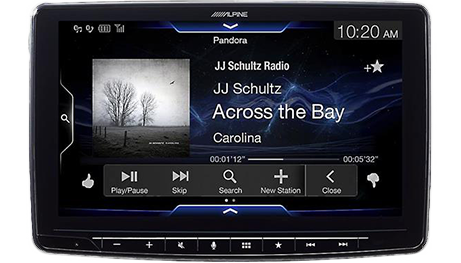 Alpine iLX-F309 HALO9 9-INCH MECH-LESS AUDIO/VIDEO RECEIVER
June 3, 2018
Alpine iLX-207 7-Inch Mech-Less Audio/Video Receiver
Apple CarPlay™ and Android Auto™ in a Size That Fits Everyone
Do you use your smartphone for practically everything? The iLX-207 Mechless Audio/Video Receiver with both Apple CarPlay and Android Auto capability optimizes your main smartphone features in a way that lets you concentrate on your driving.
Description
Apple CarPlay™ and Android Auto™ in a Size That Fits Everyone
Do you use your smartphone for practically everything? The iLX-207 Mechless Audio/Video Receiver with both Apple CarPlay and Android Auto capability optimizes your main smartphone features in a way that lets you concentrate on your driving.
Overview
50 Watts x 4
3 Pre-Outs (4V)
Works with Apple CarPlay™
Android Auto™ compatible
7″ VGA display with capacitive touch screen
Compatible with Alpine TuneIt App for iPhone® and Android™
Built-In HD Radio™ Tuner
SiriusXM™ Satellite Radio ready
Bluetooth® hands-free calling and audio streaming
9-band parametric EQ
6-channel time correction set by Alpine TuneIt App
MediaXpander®
Accessory Control Ready (KAC-001 Required)
Keep factory controls with iDatalink® Maestro® Module
1 HDMI input and 1 HDMI output
Steering wheel remote control ready
1 camera input
Be smart when using your phone on the road. The iLX-207 is compatible with both Apple CarPlay and Android Auto. After connecting your smartphone via the charging cable and activating Bluetooth for Android Auto use, you get your music, driving directions, and phone calls – all controlled from the 7-inch touchscreen and heard through your vehicle's speaker system, so you don't have to look at or touch your phone and can keep it safely stored away.
The iLX-207 "Works with Apple CarPlay" and lets iPhone users make and receive calls, access text messages, play music, and get directions in a way that allows them to stay focused on the road. Apple CarPlay is accessed through the capacitive touch screen or the "Voice" hard button to activate Siri voice control and is compatible with iPhone 5 and later (iPhone must be connected via Apple lightning cable).
The iLX-207 is Android Auto Compatible. Android Auto was designed with safety in mind. With a simple and intuitive interface, integrated steering wheel controls, and powerful new voice actions, it's designed to minimize distraction so drivers can stay focused on the road (requires both a USB cable and Bluetooth connection; requires the Android Auto app on Google Play and on Android compatible smartphone running Android™ 5.0 Lollipop or higher). Android Auto is accessed through the capacitive touch screen or the "Voice" hard button with voice control.
Android, Android Auto and Google Play are trademarks of Google, Inc.
7-inch Touchscreen with Swipe User Interface and Anti-Glare Screen
The iLX-207's intuitive interface allows for 4-way swipe action control: Left, Right, Down, Up. You are just one swipe away from the most commonly accessed features:
Swipe to the Right to access the Audio and Video commands. Within the Audio and Video screen, you can swipe across to access all your entertainment sources (such as HD Radio, Pandora, SiriusXM, Bluetooth audio streaming, etc.)
Swipe Down to access the adjustment settings to the Audio system or Rear Seat Entertainment system (sold separately)
Swipe Up to access Bluetooth and Source Selection
Alpine Go!
Tired of looking back and forth from your smartphone to your Alpine dash system's maps to enter a destination address? The new Alpine Go! app allows you to easily send a destination from your phone to your Alpine system. You can also build and save a list of locations of your choice shared from various apps to easily send to your Alpine dash system's navigation – just enter, send and go. Get the app here for iOS or for Android.
Take the Command Center Beyond the Dash
Have you upgraded your vehicle with accessories like a winch, lights, air suspension and a motorized tonneau cover? No need to add switches that clutter your dash. Now you can conveniently control these accessories directly from the iLX-207's touchscreen! The KAC-001 External Accessory Controller (sold separately) turns the iLX-207 into a hub to connect and control these accessories. Eight individual outputs are available to control eight relay-connected accessories, and the accessories can be configured as Pulsed, Latched or Momentary Outputs. Graphical icons can be assigned to each accessory for quick identification on the screen.
Controlling Multiple Camera Systems Has Never Been Easier
It's easy to add handy Drive Assist front or rear camera systems to the iLX-207. Choose from a variety of Alpine camera systems that offer various views like ground view for connecting a tow hitch, wide-angle views to see past your vehicle, and multi-angle views to see two images on the screen.
If you need multiple camera systems on your vehicle, the KCX-C250MC Multi-Camera Selector (sold separately) allows them to be easily controlled right from the iLX-207's 7-inch touchscreen. The names of the connected camera systems appear on the main screen, so simply select the camera system you want to use. You can then choose the viewing option from that camera to be displayed on the screen.
Customizable Shortcuts at Your Fingertips
The My Favorites feature offers convenient shortcuts for the functions that you use the most, such as:
Audio Sources (HD Radio™, Pandora®, iPod®, SiriusXM, HDMI/DVD, AUX)
Phone Settings (Most-dialed Contacts)
A shortcut soft key on the touch screen within all audio and phone sources makes it even easier to add sources than before. Easily add, delete, and re-arrange your shortcut icons by dragging the icon(s) to a new location on the screen. Your settings are kept as a personal profile linked to your smartphone via Bluetooth.
Keep Select Factory Controls with the iDatalink® Maestro® Module (sold separately)
The iLX-207 can retain select feature variations* and also display vehicle information on the 7-inch screen.
* Retained factory features vary by vehicle. Visit iDatalink Maestro to validate factory controls for your vehicle.
Bluetooth Hands-Free Calling and Audio Streaming
Be smart when using your phone on the road. The built-in Bluetooth® wireless technology allows for hands-free calling, secure simple pairing (SSP) and call waiting. Icons depicting phone battery level and cellular signal level are shown on the 7-inch screen. Expand your entertainment options with audio streaming from your smartphone.
HDMI: More Entertainment with Just One Cable
Now it's possible to enjoy even more content than ever before through your iLX-207. The iLX-207 has HDMI compatibility for an all-digital audio and video connection via a single cable. Expand your HDMI connectivity with the KCX-630HD HDMI Selector Interface, sold separately, that adds an extra HDMI input for more flexibility.
FLAC Playback for Superior Sound
The iLX-207 offers FLAC playback via USB for the best music experience. Other supported formats include MP3/WMA/AAC/HE-AAC music playback via USB
Works with Pandora® Internet Radio for iPhone and Android Smartphones
Stream music from your Android smartphone using Alpine's Advanced technology. With your Android, enjoy easy wireless operation of your favorite Pandora channels with Thumbs Up/Thumbs Down buttons directly on the faceplate, Quick Search features, and even create new Pandora stations and bookmark your favorite tunes on-the-go. Alpine's Media XPander PRO DSP-Sound Expansion circuitry ensures the best possible sound for streaming music from your Pandora connection. To enjoy the same great Pandora features from your iPhone, simply connect the included iPod / iPhone audio / video cable.
Built-In Digital HD Radio®
Alpine does HD. Get all the music and programming you want to hear in a crystal-clear digital format. FM stations with CD-quality sound and AM stations with FM-quality sound, both with virtually no distortion. Extend your music choice further with multi-casting capability HD1, HD2, and HD3 and you'll hear more talk and music content from the stations you already receive. Alpine's exclusive Smart Reception Management keeps you tuned in to your favorite HD digital sub-channels, even when you're in an area with limited digital reception. To find stations near you, visit HD Radio.
Made for iPod® / Works with iPhone®
It's convenient to control your iPod or iPhone in the car – enjoy seamless operation of your iPod in addition to full control of all your favorite media sources. Control all search options of your iPod directly from the ILX-207 via Playlist, Artist, Album, Song, Genre, Podcast or Composer. The USB connection allows for high-quality iPod / iPhone playback and delivers an even faster access speed so you'll find songs as quickly as you expect to find them on your iPod / iPhone.
Satellite Radio Ready
Upgrade your sound experience and expand your entertainment choices by adding SiriusXM satellite radio to your ILX-207. The iLX-207 is SiriusXM-Ready™ and connects to the SiriusXM SXV300 Connect Vehicle Tuner Kit (sold separately, subscription required). SiriusXM features include: album art; display of channel logos; pause, rewind and replay up to 60 minutes of content while listening to satellite radio; start songs from the beginning when tuned to any favorite music channel using TuneStart™; scan and select songs on favorite music channels with TuneScan™.
Video Entertainment for Your Enjoyment
The iLX-207 is mechless, but you can still enjoy DVD video entertainment while parked by easily adding the DVE-5300 DVD Player to playback these formats: CD audio, MP3, WMA, MPEG2 AAC, MPEG4 AAC, WAV, DVD-Video, DVD-VR, and Video CD.
Become a Tuning Expert with Alpine TuneIt App 3.0 Integration
Expanded vehicle choices, including trim and steering position, for easier sound system tuning
Control the rear camera guidelines, opening screen, background color and external unit connection
BassEngine SQ adjusts bass characteristics for different types of music