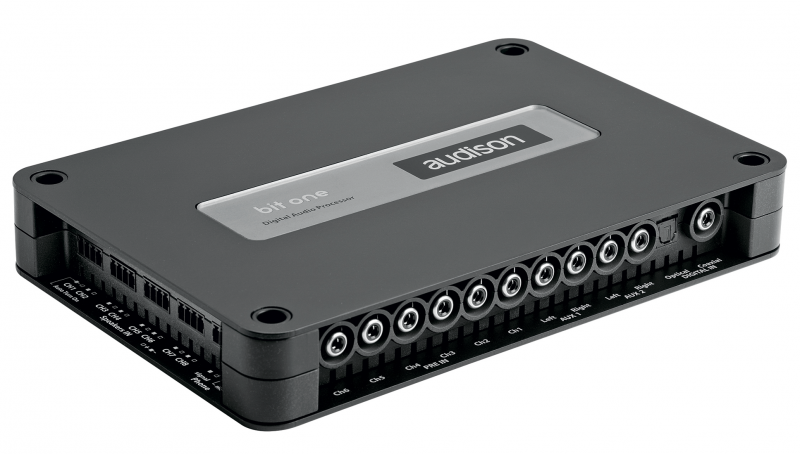 Audison bit One AUDIO PROCESSOR
June 4, 2018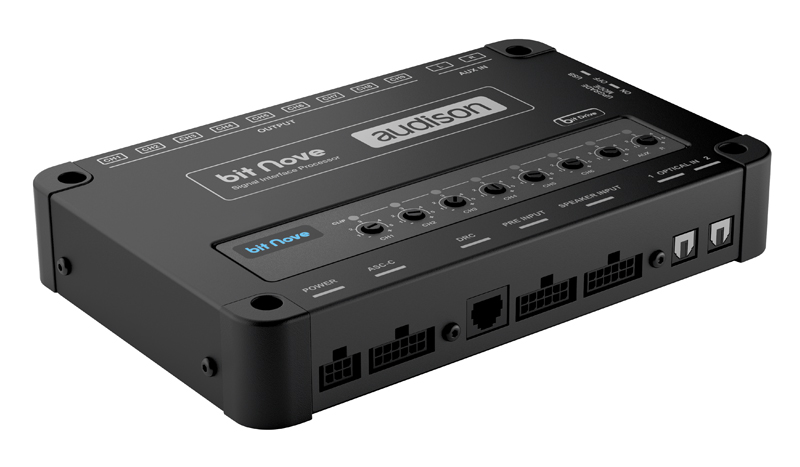 Audison bit Nove THE NEW AUDISON BIT PROCESSOR
June 4, 2018
Description
Thanks to the Analog Devices DSP (ADSP-21489), 32 bit floating-point Sharc series (450 MHz clock), bit One HD makes the most of Hi-Res audio files achieving studio master quality in your car.
bit One HD is able to develop an Audison Full DA HD chain, providing pure digital signal tranfer: the digital audio signal comes through one of the two optical digital inputs (TOSLINK up to 24 bit/192 kHz), is processed by the DSP at 24 bit/96 kHz and is sent to Audison amplifiers through two AD link port, preserving all the information of the Hi-Res audio file reproduced.
A dedicated FIR firmware release enables the user to process up to 9 digital channels with crossover FIR filters. Through this type of sound processing, much more demanding in terms of calculation resources, a leading-edge in-car listening experience is achieved.
Three equalizers based on two different types of digital filters (FIR and IIR) manage the frequency response: 5 poles input equalization (MASTER and AUX) FIR type, to flatten the curve based on the input selected; IIR 11 poles output equalizer, to adapt the frequency response in the car compartment; 5 poles main equalization, FIR type, to "shape" the sound of the entire system according to the user's personal music preferences.
When bit One HD is connected to an OEM head unit, a guided configuration routine automatically synchronizes the input audio channels, which are often time-delayed from the OEM source or amplifier, prior to the signals summing.
A De-equalization of the OEM system frequency response is then performed, featuring linear-phase FIR filters, to obtain an unparalleled reconstruction of the original signal without altering the phase response.
The RVA (Remote Volume Aux) function allow to select an auxiliary source (like the Audison bit Play HD) and adjust its volume via the OEM Head Unit.
The system setup is graphically managed and all the tuning features can be accessed intuitively, according to specific criteria required by the car audio industry.
bit One HD features 8 memories for the pre-sets of the Windows-based (10, 8, 7 edition) PC software.
Twelve input channels for four different signal typologies(amplified, pre-amplified and TOSLINK optical digital) and six different sources managed through DRC MP remote control (provided), making the bit One HD a unique interface suitable for any need.
13 analog and/or digital output channels ensure vast expandability for any audio system configuration.
Connecting the bit One HD to the Audison bit Tune through an automatic procedure, all the processor's basic audio parameters can be optimized (time alignment, equalization and output levels) ensuring an excellent acoustic result.
Accessories
DRC MP – Digital Remote Control Multimedia Play INCLUDED
The new Audison DRC MP (Digital Remote Control Multimedia Play) is compatible with all the Audison electronics featuring AC Link bus. Its slim profile along with the holder supplied with it eases the installation in the best position inside the car. Thanks to the new Joystick, "Rubber Touch" finished for best control of the movements along the four direction axes, the 'DRC Settings' menu can be adjusted and navigation is also possible through the 'Navy Command' function if the system features an Audison bit Play HD with video output connected to a monitor.
USS4 – Universal Speakers Simulator
Some OEM sources/head-units have a test circuit that monitors the presence of a low-impedance load to enable audio outputs. When you connect this type of head-unit to the high-level inputs of an Audison bit processor, which has a high impedance load, audio outputs are silenced. By inserting the USS4 between the source and the processor / amplifier, these problems are definitively solved.
OP 1.5 • TOSLINK Optical Cable
Optical cable ending with TOSLINK connectors for S/PDIF digital audio signals. Cable length: 1,5 m / 59,05".
OP 4.5 • TOSLINK Optical Cable
Optical cable ending with TOSLINK connectors for S/PDIF digital audio signals. Cable length: 4,5 m/177,16"
STR • TOSLINK Optical Cable
Male-Female Toslink adapter with rotatable head. The 90° angle allows to save space.
STA • F/F Socket TOSLINK adapter
Optical adapter to extend optical cables featuring TOSLINK connectors.
ECK DRC
DRC Cable Extension kit for installations on especially long vehicles. Total length of the supplied cable with the extension is equal to 6,5 m / 225,90″.
ES3 – BIT ENERGY STORAGE START & STOP
It prevents the processor from shutting down when turning on cars featuring the start & stop system.