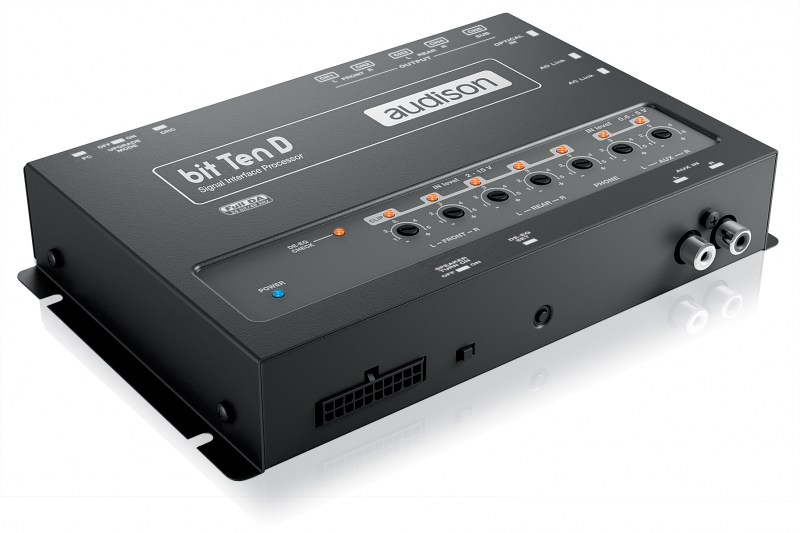 Audison bit Ten D AUDIO PROCESSOR
June 4, 2018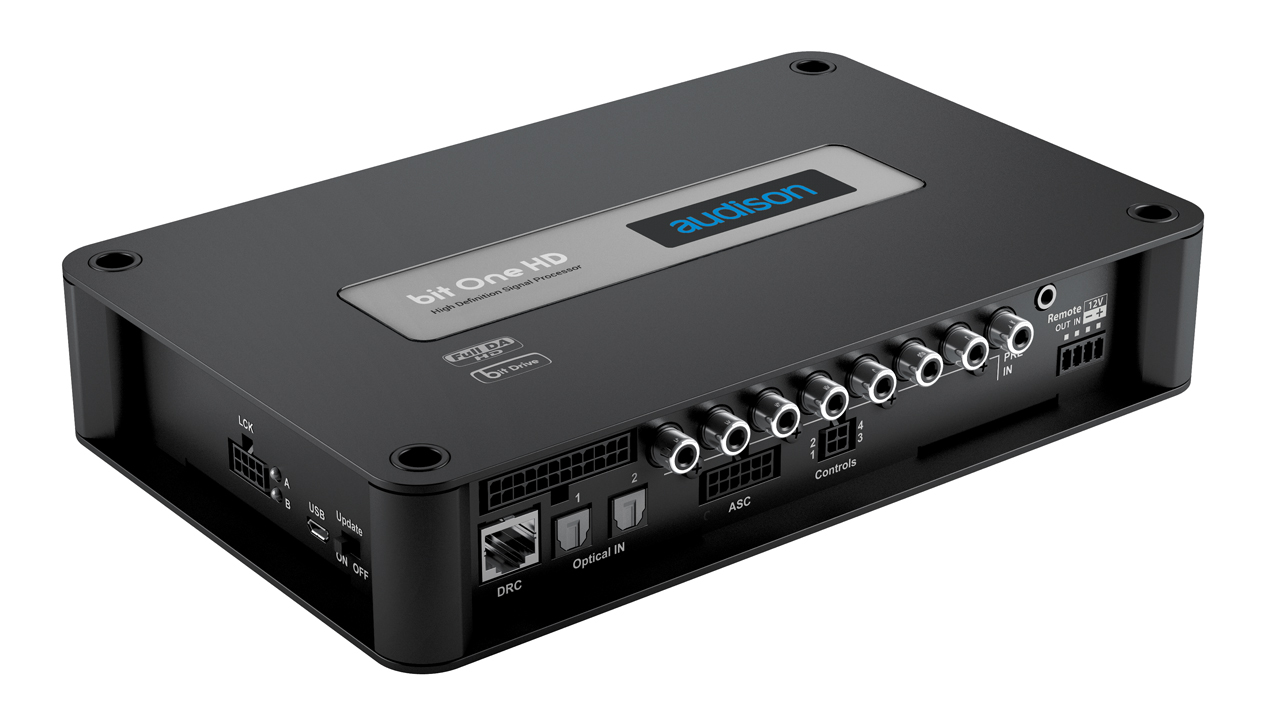 Audison bit One HD 13-CHANNELS HI-RESOLUTION DIGITAL AUDIO PROCESSOR
June 4, 2018
Description
Despite its compact size, the bit One is equipped with a powerful 266 MHz / 32 bit floating point DSP microprocessor, working in real time on all the functions of the most complete systems. Managed and configured by a simple and intuitive computer software, it is possible to make adjustments to improve the signal through each phase of its path; from input to output.
Eight input channels for four different signal typologies (amplified, pre-amplified, coaxial electric and TOSLINK optical digital) and six different sources managed through a remote control, making the bit One a unique interface suitable for any need.
Eight analog and/or digital output channels ensure vastexpandability for any audio system configuration.
Accessories
DRC–Digital Remote Control – PROVIDED
DRC is the digital interface between the bit processors and the user. DRC mounted in the vehicle dashboard with bit Ten D processor, provides: – ability to select between main, aux and optical inputs – control of master volume, subwoofer volume, balance and fader – ability to choose between 2 user-defined memory presets for equalizer, crossover and time alignment settings. – control of the Audison Thesis amplifiers' system when these are installed in the same system
DRC MP – Digital Remote Control Multimedia Play – OPTIONAL
The new Audison DRC MP (Digital Remote Control Multimedia Play) is compatible with all the Audison electronics featuring AC Link bus. Its slim profile along with the holder supplied with it eases the installation in the best position inside the car. Thanks to the new Joystick, "Rubber Touch" finished for best control of the movements along the four direction axes, the 'DRC Settings' menu can be adjusted and navigation is also possible through the 'Navy Command' function if the system features an Audison bit Play HD with video output connected to a monitor.
USS4 – Universal Speakers Simulator 4
Some OEM sources/head-units have a test circuit that monitors the presence of a low-impedance load to enable audio outputs. When you connect this type of head-unit to the high-level inputs of an Audison bit processor, which has a high impedance load, audio outputs are silenced. By inserting the USS4 between the source and the processor / amplifier, these problems are definitively solved.
OP 1.5 • TOSLINK Optical Cable
Optical cable ending with TOSLINK connectors for S/PDIF digital audio signals. Cable length: 1,5 m / 59,05".
OP 4.5 • TOSLINK Optical Cable
Optical cable ending with TOSLINK connectors for S/PDIF digital audio signals. Cable length: 4,5 m/177,16"
STR • TOSLINK Optical Cable
Male-Female Toslink adapter with rotatable head. The 90° angle allows to save space.
STA • F/F Socket TOSLINK adapter
Optical adapter to extend optical cables featuring TOSLINK connectors.
ECK DRC
DRC Cable Extension kit for installations on especially long vehicles. Total length of the supplied cable with the extension is equal to 6,5 m / 225,90″.
SPM4 – 4 Ch Stereo Passive Mixer
Recommended to extend the number of inputs of bit One HD processor because they feature a De-equalizer (De-Eq). In that case, any possible non-linear acoustic emissions due to the mixing of the pre-existing filtered channels are duly compensated.
ES3 – BIT ENERGY STORAGE START & STOP
It prevents the processor from shutting down when turning on cars featuring the start & stop system.