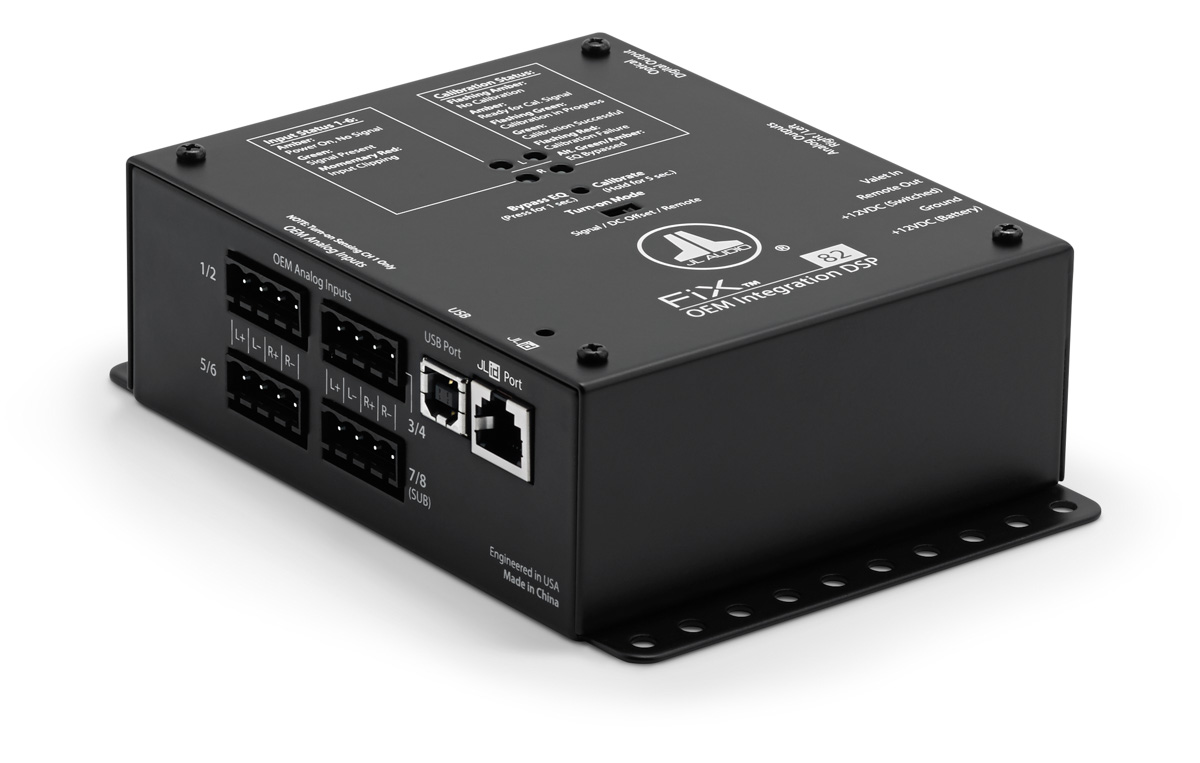 JL Audio FiX-82 OEM Integration DSP with Automatic Time Correction and Digital EQ
June 4, 2018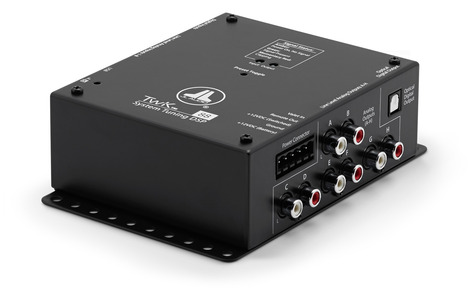 JL Audio TwK-88 System Tuning DSP controlled by TüN software, 8-ch. Analog & Digital Inputs / 8-ch. Analog Outputs
June 4, 2018
JL Audio FiX 86 OEM Integration DSP with Automatic Time Correction and Digital EQ
Description
OEM Integration DSP with Automatic Time Correction and Digital EQ. 8-ch. Inputs / 4-ch. Stereo + 2 Subwoofer RCA Outputs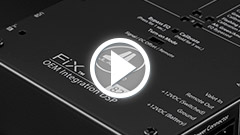 The FiX™ 86 is a state-of-the-art digital signal processor engineered to deliver outstanding sound from factory source units, while retaining OEM fader control.
Unlike typical OEM interface products, the FiX™ 86 automatically corrects time-delayed factory outputs prior to signal summing and EQ correction. Calibration takes just a single button press and about 30 seconds to complete, with no special equipment needed.
With a powerful 24-bit DSP processor and quad 1/3 octave equalizers onboard, complex factory signals, up to 3-way front and 2-way rear, are combined and level matched automatically into six, full-range stereo signals: Front (fader-controlled), Rear (fader-controlled) and Subwoofer (non-fading, front+rear summed) outputs.
By connecting a PC running TüN™ Software via USB, you can also access a complete suite of diagnostic panels that show the frequency response of input signals, as well as the corrected outputs. Adjustments can be made to input polarity, muting, and filtering, and new calibrations can be initiated from the PC as well. By clicking on the "TUNE" tab of the TüN™ interface, you can also access four, user-adjustable, 10-band, graphic equalizers to fine tune the output signals.
Differential-balanced inputs accept virtually any OEM analog audio signal, from low-voltage, line-level to high-power, amplified speaker-level outputs (up to 30V RMS).
Activation methods include 12-volt or Auto Turn-On (Signal/DC-Offset Sensing) to trigger a dedicated remote turn-on output for aftermarket equipment.
An optional DRC-100 or DRC-200 Digital Remote Controller (sold separately) adds Master Volume Control and/or Subwoofer Level Control from the driver's seat.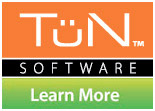 Achieving great sound from your factory stereo has never been easier, or sounded better… Now with fader retention and subwoofer output!
Specifications:
| | |
| --- | --- |
| Power Supply Type | Regulated DC-DC SMPS |
| Input Operating Voltage | 10 – 16 VDC |
| Standby Current Draw | <1.5 mA |
| Operating Current Draw | 0.7 A |
| Recommended Fuse Value | 1 A |
| Input Channels | Eight |
| Input Type | Differential-Balanced |
| Input Voltage Range | 250 mV – 30 V RMS |
| Minimum Input Voltage | 10 mV RMS |
| Input Level Setting | Fully automatic |
| Output Channels | Six (Front/Rear/Sub Output Pairs) |
| Analog Output | Unbalanced, stereo RCA jacks |
| Digital Output | N/A |
| Output Impedance | 450 Ω |
| S/N Ratio | 96 dB (A-Weighted, referred to 4V RMS Output) |
| THD+N @ Rated Output | 0.02% (20 Hz – 20 kHz) |