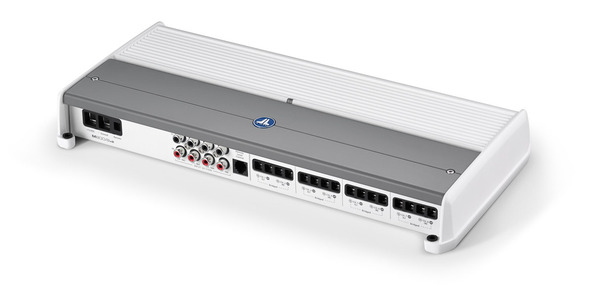 JL Audio M800/8v2 8 Ch. Class D Full-Range Marine Amplifier 800 W
June 9, 2018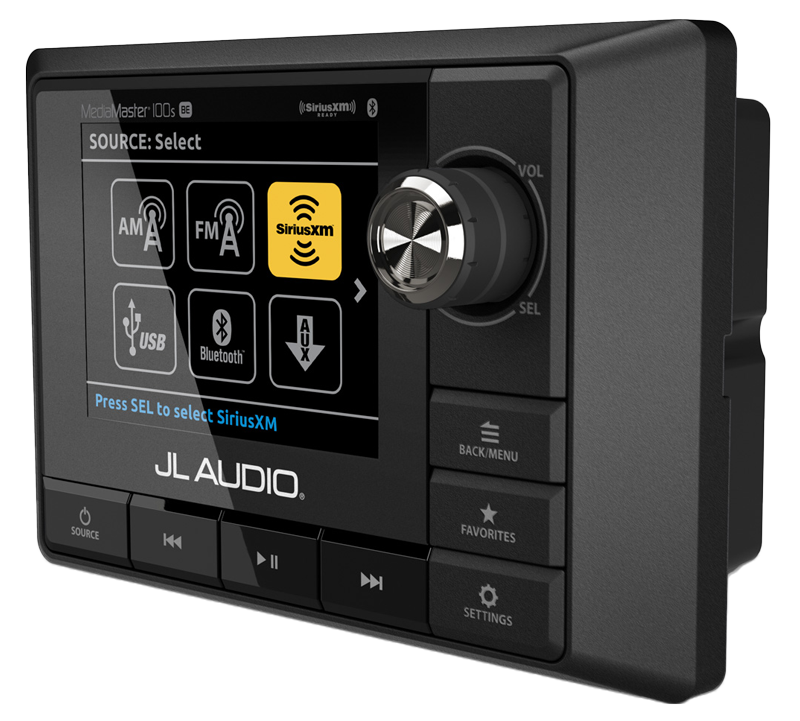 JL Audio MM100s-BE Weatherproof Marine Source Unit with Full-Color LCD Display
June 9, 2018
Description
5-Channel Class D Marine System Amplifier, 100 W x 4 @ 2 Ω + 600 W x 1 @ 2 Ω – 14.4V
Here is the perfect, all-in-one solution to drive a potent 4-speaker + dual subwoofer marine audio system. The M1000/5v2 delivers up to 1000 W of clean power and can comfortably drive two pairs of quality component speaker systems with 75 W x 4 @ 4 Ω, while also delivering a stout 600 W of power to a dual subwoofer system. The breakthrough that makes this much power possible in such a small chassis is our NexD™ switching amplifier design.
The M1000/5v2 includes a 12 dB / octave high-pass filter for one main channel pair, a 12 dB octave high-pass or bandpass filter for the other main channel pair, plus a variable slope low-pass filter for its subwoofer channel. All three filters offer continuously variable cutoff frequency selection from 50-500 Hz. This amplifier's filters can also be configured as a true 3-way crossover, with a low-pass filter for the subwoofer channel, a bandpass filter on Ch. 3 & 4, and a high-pass filter on Ch. 1 & 2. An "x10" multiplier switch on the Ch. 1 & 2 high-pass filter allows its cutoff frequency to be adjusted from 50-500 Hz or 500-5000 Hz.
With the addition of an HD-RLC remote level control (sold separately), the amplifier's subwoofer output level or master volume for all channels can be directly controlled from the helm. The M1000/5v2 also features the v2 Spec feature set, which consists of automatic turn-on capability (via signal sensing or DC-offset sensing), and a dual-range differential-balanced input section able to handle a wide range of input voltage levels.
This amplifier features white and gray powder-coat finish, a gasketed cover for the controls and stainless steel hardware for durability in the marine environment.
| | |
| --- | --- |
| Main Channels @ 4 Ω | 75 W RMS x 4 |
| Main Channels @ 2 Ω | 100 W RMS x 4 |
| Main Channels – Bridged @ 4Ω | 200 W RMS x 2 |
| Subwoofer Channel @ 4 Ω | 400 W RMS x 1 |
| Subwoofer Channel @ 3 Ω | 500 W RMS x 1 |
| Subwoofer Channel @ 2 Ω | 600 W RMS x 1 |
| Subwoofer Channel @ 1.5 Ω | N/A |